50th Design Golden Bottle Opener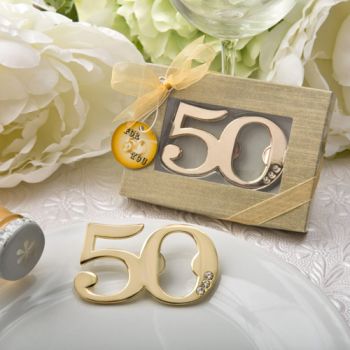 All metal shape of a large 50 with a golden finish. Three sparkling rhinestones add a touch to the classic design. The open number zero doubles up as a strong bottle opener.
Your guests will love this favor.
Size
2 5/8" x 1 1/4"
Price
1-+17 cost $3.05
18-35 cost $2.38
36-95 cost $2.20
96+ cost $2.00
50th Gold Metal Key Chain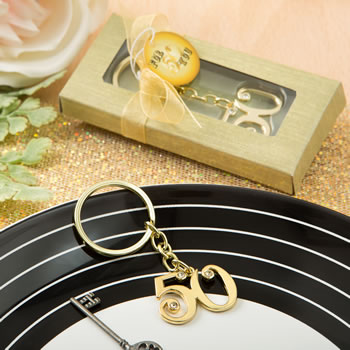 Celebrate the magnificent Golden Anniversary or 50th B- Day
Charm in the shape of the number 50 embellished with three clear rhinestones. packaged in a stunning gold gift box wrapped with a gold organza ribbon and bow.
Size
1" x 1"
3" long chain
Price
1-23 cost $2.25
24-59 cost $1.72
60-143 cost $1.60
144+ cost $ 1.50
E Mail